Anyone else begin their health and fitness journey with SHAUN T?
Did you get hooked on Insanity? Go on to complete the Asylum, and T25, and Max:30 and/or are you PATIENTLY waiting for his next release?
Was your life CHANGED by this man who brought in home motivation to you DAIILY while helping you crush your fitness goals?
Well my sweet friend, you're in LUCK!
The official release date has been set for Shaun T's newest program to hit the home fitness world – coming JANUARY 2019 and I beyond EXCITED to share that I have been selected to participate in the Transform :20 Test Group!
6 years ago we were expected our second little minion and my hubby decided it would be the perfect time to snag this dvd program off an infomercial he saw late night on TV…and get in KILLER SHAPE!
I remember watching him borderline die a little while he would sweat it out in the basement thinking⠀
I W O U L D N E V E R
And well, I actually never did. But that opened the door – MY EYES!! And I was INSPIRED by everything he did and remember thinking: If these people can do this…SO CAN I!
And so I did!!!
After having our baby boy I picked up this "shorter version" called T25 a year later and kicked off what would become the START of my OWN home fitness journey! ⠀
FAST FORWARD 5 years, and countless home fitness programs later…and finding out I could turn this journey into a BUSINESS – and
I have been selected to participate as an exclusive testgroup in the pilot program release of TRANSFORM 20! 


While I continue to coach others on THEIR journey I will have the opportunity to work side by side with the guy who helped me get this thing started so long ago.⠀
Shaun T will be MY COACH-my MOTIVATOR-my daily ACCOUNTABILITY PARTNER as we will be working out virtually together every afternoon while they film this new program!!!
So what is Transform :20 all about???
Shaun T has created us a 6 week, TWENTY MINUTE workout program that focuses on radically transforming your mind while you change your BODY!!
That's not a typo – this program is truly 20 minutes a day, 6 days a week for 6 weeks – which means there are NO EXCUSES accepted!!!
It's Shaun T at his all-time best using the step to scorch fat and transform everything – abs, legs, upper body, glutes – without lifting a single weight.
But you're not just getting fitness this round, you're getting MOTIVATION too!
Each workout will be unique – which means 36 different workouts for you to get the BEST out of your results!
No repeats, no do-overs. It's like taking a new class with Shaun in your own private studio every day for 6 weeks!
You won't want to miss a single day!
Transform :20 is ideal for all you Shaun T groupies, those who want to exercise but are limited on time and/or space and anyone looking to change up their fitness routine while challenging their own self!
And YES – there will be a modifier so you can fit the workout to your fitness level and abilities.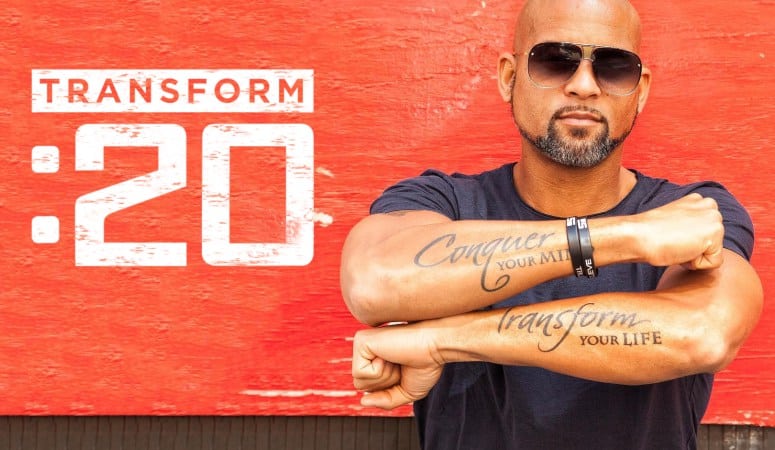 I will be starting the pilot test group on Monday September 24th and I will be documenting as much as possible so you see if this is something you will want to complete with me in the new year!
VIP Access to Transform :20 launches January 14th, 2019, and the program will be available to everyone with Beachbody on Demand on April 1st, 2019.
You can follow my journey on my Instagram Stories and IG feed to see the transformation 20 program UNFOLD!
If you are interested in staying up to date on launch and product details complete the form below and I will keep you up to date on all the program info! 
Looking forward to working with you!!!
It's time to CONQUER your MIND – and TRANSFORM your LIFE!!!
#togetherwearestronger