We are officially back from the 2019 Success Club Cruise to the Caribbean!
This is our 5th rewards trip with the company and FIRST one that included our kiddos and while that change added a whole new LEVEL of crazy to the trip I found myself overwhelmed with GRATITUDE for days.
Because I EARNED this trip – but WE got to enjoy it – TOGETHER.
I still remember VIVIDLY when I learned of these trips…
I was a coach for all of ONE WEEK  when MY COACH set sail on a cruise she EARNED. I watched her.
I watched her workout with the trainers, spend time with her team, SHARE how she earned this and I made a DECISION right then and there that I would be earning the next one.
I busted my tail – helping a MINIMUM of 3 people a month get started on their health and fitness journey – and by September – 6 months later, fully earned the trip for the following spring!
The first trip (and the next 3 consecutive ones) were just the hubs and I. It was my way to telling him THANK YOU for supporting my crazy dreams and wild ideas…as I transitioned from a CPA full time working mom – to a FULL TIME Stay at home mom – to a girl who discovered a PASSIOn and became a MOMMYPRENEUR – building a virtual business in the hours when the little ones slept.
I think its important for YOU to realize that if you were watching me and my family and my team last week on the trip you understand YOU CAN DO THIS too!
I got curious – and chased the curiosity! Because well, in the world we live in, that's a privilege we have!
I enjoyed our first 4 trips just the hubs and I – but bringing our kiddos along brought the  gratitude to a whole new level!
Curious about this coaching gig???  You can apply here!
What was the 2019 trip?
This year we set sail out of Ft. Lauderdale on the Harmony of the Seas which is an amazing ship full of activities for both the adults and the kiddos.
The kiddos created a countdown months ago, but truly were most excited for the UNLIMITED ICE CREAM they had heard so much about.
But I think my favorite part was watching them build friendships with my friends kids. I mean I love what I do – who I GET TO surround myself with – but watching them develop those friendships and create memories was icing on the cake.
Our first day kicked off with the Elite and Premiere Reception in the back of the boat and was exclusive to all of the Top Coaches in the company!
As an Elite coach, we get swag bags and private events to celebrate our team's accomplishments. A way for the company to say THANK YOU for paving the way – and a time for us to mix and mingle and mastermind and CELEBRATE together!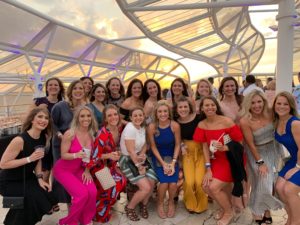 Thankfully the kiddos were BEGGING for a night in the kids club, so we enjoyed our first night on the ship enjoying our celebrations with our friends!
6:30 am came the next morning and we hit the deck for the first for 4 back to back to back mornings of WORKOUTS with the super trainers.
Our evenings were filled with dinners out, walking around the boardwalk, sipping milkshakes from Johnny Rockets and just soaking in being PRESENT with the people who have helped change my life in so many ways.
We had two port stops on our trip: Labadee in Haiti and the Bahamas
When my 7 year old learned there would be "real life trainers" on this trip, I had to take the opportunity to document it when we saw super trainer Jericho McMatthews soaking in the sun in Labadee.
Jericho was so SWEET and welcomed my little girl with open arms…and all Aubrie could do was SMILE, then leap away after her picture!
The evening after our first port visit in Labadee, my son looked at me and said "Mommy thank you for starting Beachbody after I was born. I would have never been able to go on this trip and visit Haiti with my friends" – and I just hugged him for the longest time and didn't want to let go

TRUTH IS – there are a lot of things in our life – in his little life – that would not have COULD NOT have happened if I didn't follow my heart and say YES to this opportunity when it fell on my lap 5 years ago.
I started coaching when Colt was 9 months old and Aubrie was 2.
They don't remember the mom who spent 60+ hours working away in the audit room, but they  know the WHY behind what I do now, and they know that my number 1 priority in life is to continue building a business that allows me to be THEIR mom first, and help others do the same.
I won't pretend like building a business is EASY – it's not easy. But gosh it's worth it. And the fulfillment I have gained through this opportunity and the gift I get to pay forward daily keeps me going, when the going gets tough!
Have You Ever Thought About Coaching?
I'm going to start by saying this is a business that requires an investment.
Financially and in YOURSELF!!!
But you have the opportunity to turn this into a LIFE CHANGING business – in so many ways!
When you sign up with me you gain a spot in my internship program where I teach you how to launch your business, how to get results, how to invite others, how to share and not sell and how to truly GROW a business.
You will fail – you will have to get vulnerable – you will have to WORK to build the life of your dreams but your income is a direct result of your IMPACT you make and I don't know too many other opportunities that operate that way!
Ready to launch your biz and link arms as Business Partners?
Apply for the next Internship program
If you are COACHABLE – CONFIDENT, TEAM PLAYER – HARD WORKER & GO GETTER then I want to link arms with you!
The 2020 trip is in Punta Cana, and I want to soak in the sun WITH YOU!