Are you ready to have a MELTDOWN?
The countdown is on!!  The brand new Morning Meltdown 100 program is going to start the VIP Early Access on Monday July 1st to new and existing coaches!!!
As we get closer to the Exclusive Coach Window for the Morning Meltdown 100 launch, I wanted to make sure that you have a good understanding of all of your different package options for this program! Take a look below and please feel free to reach out if you have any questions at all!
What's the Exclusive Coach Window?
If you are already a coach, you will be able to purchase MM100 on Monday, July 1st!!
If you're not a coach but you want to get your hands on MM100 as soon as possible, you will want to sign up as a coach on OneFitFam on July 1st. You can choose to work the business, be a hobby coach, or just do it for the discount!
When you purchase your MM100 package and sign up as a coach at the same time, you'll be able to waive the coach sign up fee.
And if you're not ready to sign up as a coach, that's totally okay! Your MM100 launch date is July 16th, and that will be the day you can finally purchase your package. The program will go live on July 29th and that is also the day our challenge group will start!
By purchasing your MM100 package during the Exclusive Coach Window (July 1-July 15), you will get:
$20 off your package for a limited time only
A sneak peek of the first 10 MM100 workouts on BOD
5 Mini Meltdown prep workouts
Prep calendar
Program materials
Getting Started video
Introduction to Morning Meltdown 100 Nutrition video
GETTING STARTED OPTIONS
There are so many different options to order and I really want to help you pick out the package that is best for you! So take a look below and see what speaks to you, but remember that these links will not go live until July 1st. When you click on the link, it will take you to the coach registration page. Then on the second page of registration you will get to pick your MM100 package!!
I Already Have Beachbody on Demand (Completion Pack Links)
There is also an accessories bundle and a digital access only package if you already have Shakeology and BOD.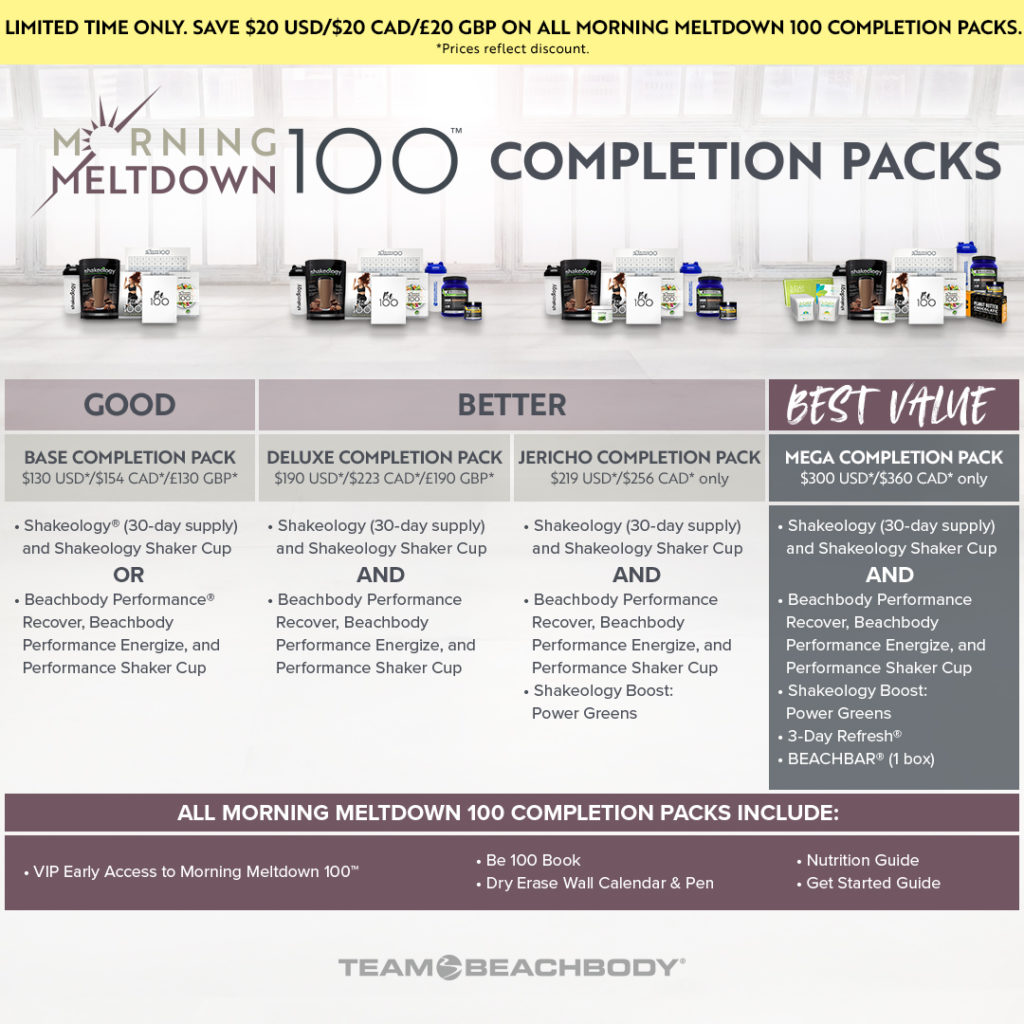 I Do Not Have Beachbody on Demand (Challenge Pack Links)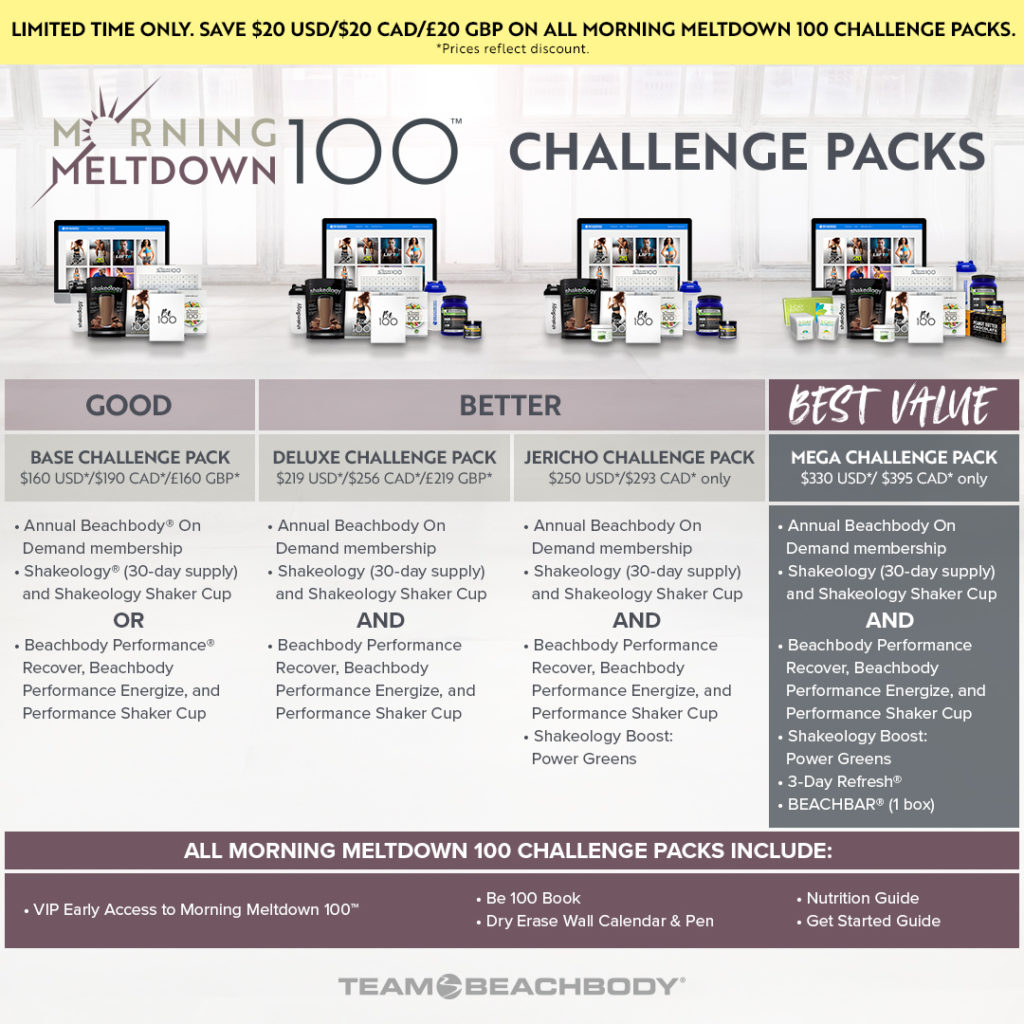 What Makes This Group Special?
I know it could be easy to say "LIFE is just too busy over the next 100 days, that's too long, etc…"
But that's exactly WHY you need this. LIFE is going to happen to ALL OF US – which is why joining a virtual bootcamp like my MM100 LAUNCH PARTY is key to having results and ultimately a new lifestyle that excludes the word DIET, thrives on CONFIDENCE and makes you PROUD!!!
What Happens Next?
The MM100 launch date for coaches is July 1st and the program will be available for customer purchase on July 16th. The program goes live on Beachbody on Demand on the 29th and that is also the day we start the challenge group!
If you are interested in joining my Morning Meltdown 100 Launch Party Group, make sure you've filled out the form below. The requirements for the group are that I am your coach, you are committed to completing the program, and you are drinking either Shakeology or the Performance Line daily.